In today's word of shrinking reimbursement and consumer driven healthcare, having a top performing Patient Access operation to attract patients, keep them in system, and ensure you are paid for all services provided is more important than ever.
The Wilshire Group's Patient Access team has the deep information technology expertise, operational experience, and project management skills to get you there.
We help ensure you are:
Scheduling every possible patient
Authorizing every service and introducing automation
Collecting front-end payments compassionately
Automating your registration processes with the systems you already own
Reducing risk and error made by Patient Access staff
Increasing accountability and transparency with management coaching and reporting
Don't just take our word for it though, take a moment to meet the team below and reach out to Matt and Freemanto see how we can help your organization's Patient Access Operations thrive.
Freeman Jenkins– Manager, Patient Access
Freeman Jenkins is a Manager of Patient Access at The Wilshire Group. Freeman is an experienced healthcare consultant and leader who focuses on maximizing value in the revenue cycle across patient access operations and information technology
A former Epic employee and certified Project Management Professional (PMP) with over ten years of experience, Freeman has deep experience leading enterprise installs, managing strategic and implementation teams, directing Community Connect projects, and shaping and delivering strategic revenue cycle initiatives that increase value and ROI.
Freeman has a BA from the University of Wisconsin and lives in Corvallis, Oregon.
Patient Access problems Freeman can help you solve:
Referral leakage and low ancillary service volumes
Low front end payment collection rates
NAHAM Access Key alignment and improvement
Authorization denials
Registration denials
Patient Access attributable CFB
Lack of accountability and transparency in Patient Access operations
Fun Fact: Freeman became a new father this Christmas Eve! Mom and baby boy, Callum, are doing great.
Matt Perron– Manager, Patient Access
Matt Perron is a Manager of Patient Access at the Wilshire Group. Matt brings over 9 years of patient access implementation and optimization experience where he specializes in front end registration efficiency, authorization processes, and insurance eligibility. Prior to joining the Wilshire Group, Matt spent 6.5 years at Epic working with many clients including large multi-hospital organizations, academic institutions, children's hospitals and community connect sites. He was also the implementation success owner for scheduling and authorization at Epic, where his role was ensuring success for all ongoing implementations. Matt also spent 1.5 years at Experian Health focusing on Real-Time Eligibility and Authorization process improvement.
Matt has a BBA in Management and Human Resources from the University of Wisconsin-Madison and he currently lives in Denver, Colorado.
Patient Access problems Matt can help you solve:
Registration denials and quality initiatives
Access Application Integration – Real Time Eligibility, Notice of Admission, Identity Verification, Authorization
Access Integration with Welcome and MyChart
Patient Movement
Pricing Transparency and compliance with the Pricing Transparency Executive Order
Ensuring Inpatients receive post-discharge follow up care with PCPs.
Fun Fact: Matt loves going to concerts and has seen over 30 shows at Red Rocks! Talk to him about cool concerts near you!
Rebecca Haymaker– Vice President, Revenue Cycle Services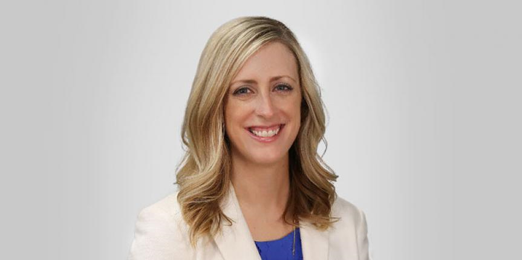 Rebecca Haymaker is the Vice President of Revenue Cycle Services for The Wilshire Group and has deep roots in Patient Access. She started her career at Epic on the patient access implementation team. After Epic she transitioned to UW Health, where she worked in patient access operations as the Director of Registration and Technical Services. There Rebecca was responsible for outpatient registration, emergency registration, scheduling, revenue cycle education, and Epic Prelude and Welcome support.  Due to the integrated nature of the patient access team, she transcended traditional silos and worked closely with leaders across the organization to transform operations, improve patient and family experience, increase employee engagement, and optimize workflows. Rebecca used her strong knowledge of technology and operations to create a centralized appointment center, design innovative arrival spaces for ambulatory clinics and hospitals, develop new staffing models, and improve patients' access to care and flow through the system.
Patient Access problems Rebecca can help you solve:
Patient financial experience
Front-end collections
Centralized appointment center creation
New facility design for optimal patient arrival workflows
Welcome kiosk strategy
Analytics strategy and reporting
Staffing and on-boarding
Employee engagement
Fun Fact: Rebecca is a parent adviser on the Madison School District Wellness Advisory Board.
Ceci Friedman– Senior Strategic Advisor, Patient Access
Cecilia (Ceci) Friedman is a Senior Strategic Advisor at The Wilshire Group, specializing in patient access and revenue cycle consulting, change management, operational process improvement, and project management.
Ceci is a seasoned leader with 15 years of progressive patient access and revenue cycle leadership experience with many clients, including large multi-hospital healthcare systems, public health organizations, and academic institutions. She is well versed in the full patient life-cycle from community physician office visits to ambulatory clinic workflows to the most complex integrated hospital stays. Ceci has led initial implementations, add-on installs, and both integrated and patient access focused optimization efforts.
Ceci received her MBA from the Carlson School of Management – University of Minnesota, and her BSBA from Washington University in St. Louis. She currently lives in Los Angeles, California.
Patient Access problems Ceci can help you solve:
Patient photo policy and system design
Integrated MyChart delivery workflow design
Hospital patient flow issues
Financial clearance delays attributable to upstream workflows
Complex, integrated Patient Access workflow optimization
Fun Fact: Ceci is the co-founder of, OLASTEO, a nonprofit organization that works to foster an appreciation of diversity, equity, and inclusion through shared group experiences.